Back to All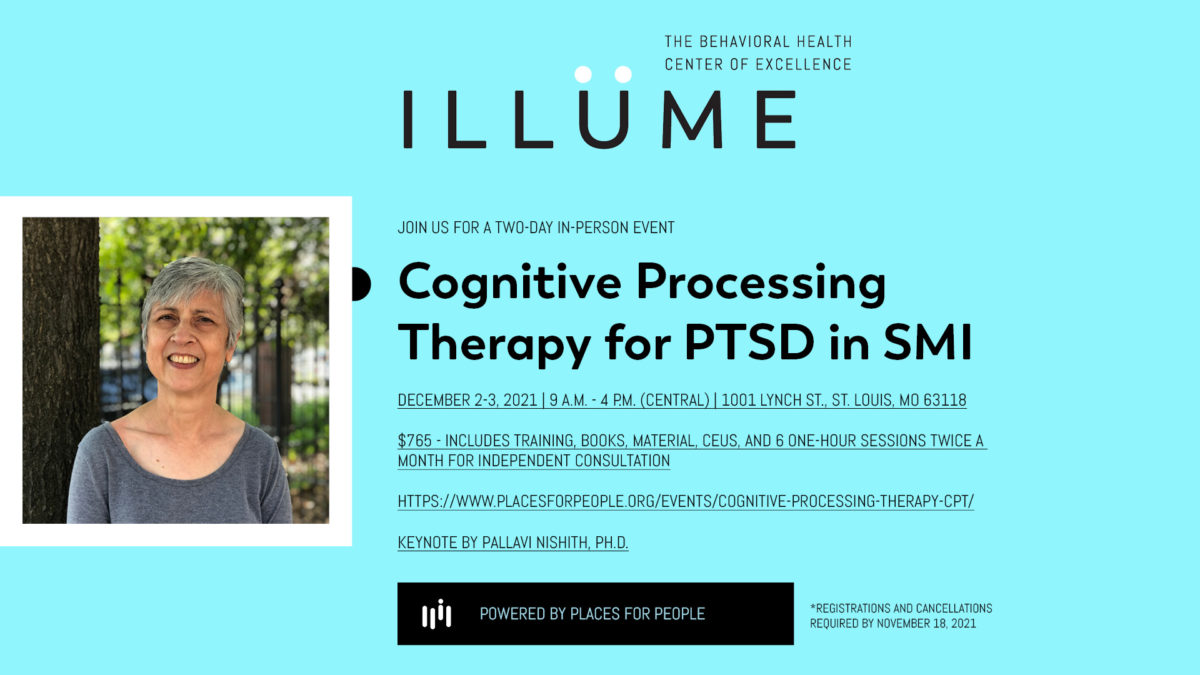 Cognitive processing therapy (CPT) for PTSD in SMI
December 2, 2021 / 9:00 am
Join Illume The Behavioral Health Center of Excellence on Thursday and Friday, December 2 and 3, from 9a.m.-4p.m. (Central)
Cognitive processing therapy (CPT) for PTSD in SMI is a specific type of cognitive behavioral therapy that has been effective in reducing symptoms of PTSD that have developed after experiencing a variety of traumatic events CPT is generally delivered over 12 sessions and helps individuals learn how to challenge and modify unhelpful beliefs related to the trauma. In so doing, the patient creates a new understanding and conceptualization of the traumatic event so that it reduces its ongoing negative effects on current life.
Dr. Pallavi Nishith has 21 years of experience working in the field of trauma and PTSD. She is currently working in the capacity of Staff Psychologist at Places for People, Inc., and in this capacity is conducting clinical, research, and training work in Trauma, and PTSD in Serious Mental Illness (SMI).
Please see our CEU Guidelines 
Register in advance for this event here.
Cognitive Processing Therapy (CPT) for PTSD in SMI training will be a two-day in-person event hosted at Places for People from 9am-4pm on December 2-3, 2021. The cost will be $765, this includes training, books, material, CEUs, and 6 one-hour sessions twice a month for independent consultation.
Please note: the registration and last day to cancel will be November 18, 2021.